On November 8–9, 1923, Adolf Hitler led a coalition group in an attempt to overthrow the German government.
This attempted coup d'état came to be known as the Beer Hall Putsch, it is also known as the Munich Putsch.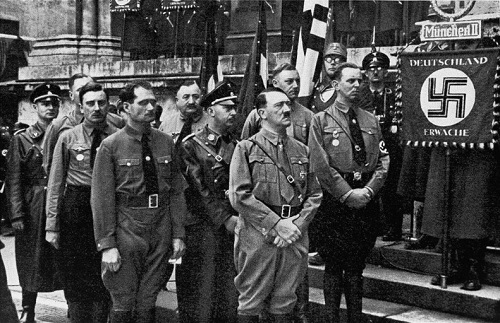 "National revolution is underway . . .
against the Berlin Jew government and the November criminals of 1918."
Adolf Hitler, November 8, 1923
The following historical event is an excerpt from my article:
Deputy Führer Rudolf Hess
A Courageous Hero For Peace
by Mark R. Elsis
https://RudolfHess.net
The Treaty of Versailles required Germany to accept responsibility for causing World War I. The total cost of the war reparations was assessed at 132 billion German Marks. In April 1921, England and France billed Germany for World War I. They demanded reparations of 33 Billion Dollars. Before the bill, 4 German Marks equaled 1 US Dollar.
In 1922, it was up to 400 Marks for 1 US Dollar. The German government pleaded for a deal. They asked for a reduction and postponement from the payments. It was refused. Germany decided to default on their payments. In 1923, it was 18,000 Marks for 1 US Dollar. In July 1923, it was 160,000, by August, 1,000,000. In September of 1923, the German government made the decision to resume making payments. It didn't seem to matter, by November of 1923, it took 4,000,000,000 Marks for 1 US Dollar.
Most Germans lost all of their life savings. Their salaries were paid in a currency that soon became worthless. Prices were changing every day, soon it became every hour, and finally every minute. The daily grocery bill now cost billions of Marks. There was widespread hunger and riots broke out. In November of 1923, hyperinflation peaked. The time was surely ripe for a coup d'etat.
On September 26, 1923, Bavarian Prime Minister Eugen von Knilling declared a state of emergency. He appointed Gustav von Kahr the new state commissioner, with dictatorial governing powers. Together with Bavarian State Police head Colonel Hans Ritter von Seisser, and Reichswehr General Otto von Lossow, Kahr formed a triumvirate. Hitler announced that starting on September 27, 1923, he would be holding 14 mass meetings. One of Kahr's first actions was to ban these meetings.
Adolf Hitler now knew that von Kahr sought to control him and was not ready to act against the government in Berlin. He found out that von Kahr was making a speech in front of about 3,000 people at Bürgerbräukeller, one of the largest beer halls in Munich. Hitler decided to take matters into his own hands. He felt the time was right for the NSDAP to make its move and take over Germany. He enlisted the help of World War I hero, General Erich Friedrich Wilhelm Ludendorf.
On November 8, 1923, the night of the Munich Putsch (also referred to as the Beer Hall Putsch), there were 55,000 members of the NSDAP. At 8:30 that evening, Rudolf Hess was with Hitler when they went into Bürgerbräukeller, which was already surrounded by a force of 600 Sturmabteilung (SA) under Hermann Göring. Hitler took the podium, interrupted the speech of von Kahr, and announced "The National Revolution has begun" "… The government of the November criminals and the Reich President are declared to be removed. A new national government will be named this very day in Munich. A new German National Army will be formed immediately. …The task of the provisional German National Government is to organize the march on that sinful Babel, Berlin, and save the German people! Tomorrow will find either a National Government in Germany or us dead"
"I am going to fulfill the vow I made to myself five years ago when I was a blind cripple in the military hospital – to know neither rest nor peace until the November criminals had been overthrown, until on the ruins of the wretched Germany of today there should have arisen once more a Germany of power and greatness, of freedom and splendor."
Full Article: https://Earthnewspaper.com/One-Hundred-Years-Ago-Today-by-Mark-R-Elsis
Subscribe To The EarthNewspaper.com Newsletter
https://EarthNewspaper.com/Subscribe
Support Honest, Independent, And Ad-Free News
https://EarthNewspaper.com/Donate
Published on November 8, 2023
Love Is The Answer
Mark R. Elsis