Kent State, Monday, May 4, 1970

It Was Fifty Years Ago Today,
That I Realized The United States Government
Was Capable Of The Cold-Blooded Murder Of Its Children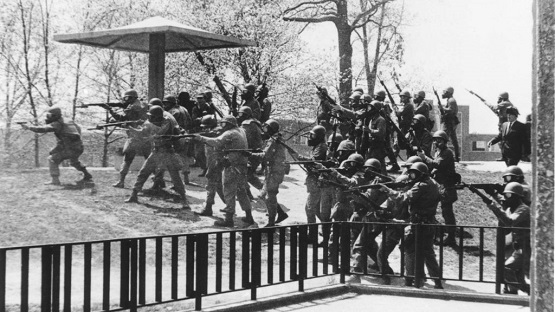 by Mark R. Elsis, Monday, May 4, 2020
I was a twelve-year-old boy on May 4, 1970, and that day changed my life forever. It was the day when I realized that 18 to 22-year-old white Americans could open fire on other 18 to 22-year-old white Americans, who were unarmed and peacefully protesting against the Vietnam War.
The Ohio national guardsmen fired 67 rounds within 13 seconds, killing four students and wounding nine others, one of whom suffered permanent paralysis.
Some of the students who were shot had been protesting against the escalation of the Vietnam War into Cambodia. This blatant aggression was called the Cambodian Campaign, which President Richard Nixon announced during a television address on April 30, 1970. Other students who were shot had been walking nearby or observing the protest from a distance.
In my first ten years and five months of life, I had lived through four major assassinations, President John F. Kennedy, Malcolm X, Martin Luther King Jr., and Senator Robert F. Kennedy, and the Vietnam War, and then, Kent State. On that day I became aware that I was born into an insane asylum of murderers who were masquerading themselves as a free and open country. I wrote a 53-page article describing this last year, here is the link:
A Violent Insane Asylum
by Mark R. Elsis
I have been doing my best to expose these murderers and enlightening humanity ever since. The brutal murders of four young Americas at Kent State on May 4, 1970, was yet another reason why I decided to create the largest network of websites on Earth.
A Few Websites:
John Fitzgerald Kennedy Timeline (414 Pages)
The Most Comprehensive Timeline On John Fitzgerald Kennedy
by Mark R. Elsis
The Day The United States Died (18 Pages)
Thursday, June 6, 1968
by Mark R. Elsis
https://EarthNewspaper.com/TheDayTheUnitedStatesDied
Dr. Martin Luther King Jr.
One Of The Greatest Orators For Peace And Love
Born January 15, 1929
Assassinated April 4, 1968
http://DrMartinLutherKingJr.com
The Following Are The Best Links To Learn The Truth About This Horrible Tragedy:


Ohio (3:00)
by Crosby, Stills, Nash and Young
https://www.youtube.com/watch?v=TRE9vMBBe10
Kent State Tape Indicates Altercation And Pistol Fire Preceded National Guard Shootings (Audio)
A noisy, violent altercation and four pistol shots took place about 70 seconds before Ohio National Guardsmen opened fire on antiwar protesters at Kent State University, according to a new analysis of a 40-year-old audiotape of the event. The discovery adds new perspective to - and raises new questions about - one of the signature events of the 20th century, after four decades of spirited discussion and research.
"They got somebody," an observer says. "Kill him!" at least two male voices repeatedly shout, followed by sounds of a struggle and a female voice yelling, "Whack that [expletive]!" or "Hit that [expletive]!" Four distinct shots matching the acoustic signature of a .38-caliber revolver then ring out, according to a review by New Jersey forensic audio expert Stuart Allen.
Earlier this year, Allen and colleague Tom Owen examined the recording at The Plain Dealer's request and determined that Guardsmen were given an order to prepare to fire moments before they unleashed a 13-second fusillade of rifle shots at a May 4, 1970 demonstration that killed four students and wounded nine others. What compelled the Guard to shoot is the central mystery of the iconic event, which galvanized sentiment against the Vietnam War.
by John Mangels
https://www.cleveland.com/science/2010/10/analysis_of_kent_state_audio_t.html
Kent State Shooting Expert
The Story Of The Kent State Shootings
On May 4, 1970, four Kent State University students were killed by Ohio National Guardsmen when they fired into a crowd of students protesting the invasion of Cambodia in the Vietnam War and the presence of the soldiers on campus.
The killings occurred four days after President Richard Nixon ordered American troops fighting in Vietnam on a mission in Cambodia. Students felt he was expanding the dreaded war, and there was window-breaking in downtown Kent on Friday night, May 1, causing $25,000 in damages. On Saturday night, protestors burned down the university's ROTC building, which brought the National Guardsmen onto campus. In this picture, taken on May 4, Guard troops guard the ROTC remains. There was another campus disturbance on Sunday night, May 3, which set the stage for the killings on Monday, May 4th.
by John Mangels
https://www.kentstateshootingsexpert.com
Kent State - Terry Norman
Terrence Brooks Norman (born April 30, 1949) was a Kent State University student allegedly involved in the Kent State shootings.
Norman was a junior at the University when soldiers from the Ohio National Guard killed four students and wounded others during a May 4, 1970 protest. Norman was present at the protest and was photographing the demonstrators for both the campus police and the FBI, a fact that was initially denied by both agencies but later confirmed.
After the shooting, Sylvester Del Corso, the Ohio National Guard's top general, released a public statement claiming that Norman had admitted firing four shots at the demonstrators in self-defense. He later backed off from that statement.
https://kentstateterrynorman.com
Kent State Shootings: Does Former Informant Hold The Key To The May 4 Mystery?
In the four decades since Ohio National Guardsmen fired on students and antiwar demonstrators at Kent State University, Terry Norman has remained a central but shadowy figure in the tragedy.
The 21-year-old law enforcement major and self-described "gung-ho" informant was the only civilian known to be carrying a gun -- illegally, though with the tacit consent of campus police -- when the volatile protest unfolded on May 4, 1970. Witnesses saw him with his pistol out around the time the Guardsmen fired.
Though Norman denied shooting his weapon, and was never charged in connection with the four dead and nine wounded at Kent State, many people suspected he somehow triggered the soldiers' deadly 13-second volley.
by John Mangels
https://www.cleveland.com/science/2010/12/kent_state_shootings_does_form.html
Uncovering The Kent State Cover-Up
When Ohio National Guardsmen fired sixty-seven gun shots in thirteen seconds at Kent State University (KSU) on May 4, 1970, they murdered four unarmed, protesting college students and wounded nine others. For forty-two years, the United States government has held the position that Kent State was a tragic and unfortunate incident occurring at a noontime antiwar rally on an American college campus. In 2010, compelling forensic evidence emerged showing that the Federal Bureau of Investigation (FBI) and the Counter Intelligence Program (COINTELPRO) were the lead agencies in managing Kent State government operations, including the cover-up. At Kent State, lawful protest was pushed into the realm of massacre as the US federal government, the state of Ohio, and the Ohio National Guard (ONG) executed their plans to silence antiwar protest in America.
The new evidence threatens much more than the accuracy of accounts of the Kent State massacre in history books. As a result of this successful, ongoing Kent State government cover-up, American protesters today are at much greater risk than they realize, with no real guarantees or protections offered by the US First Amendment rights to protest and assemble. This chapter intends to expose the lies of the state in order to uncensor the "unhistory" of the Kent State massacre, while also aiming toward justice and healing, as censoring the past impacts our perspectives in the present.
by Laurel Krause and Mickey Huff
https://www.counterpunch.org/2012/09/27/uncovering-the-kent-state-cover-up
The FBI Disputes The Claim There Was An Order To Fire At Kent State
The Plain Dealer published another front-page story today, and this one threw cold water on the audio experts' claim that they could discern an order to fire on the tape of the Kent State shootings. Apparently the Justice Department quietly asked the FBI to re-examine the Terry Strubbe tape, even though it already closed the case almost two years earlier. The FBI's experts supported Justice's decision by referrng to the previous evaluation of the tape conducted 38 years ago. That earlier analysis concluded that rather than demonstrating a clear order to fire, the voices on the tape were unintelligible. The FBI's analysis also conveniently exonerated FBI informant Terry Norman by claiming the sounds that Stuart Allen concluded were gunfire were actually the closing of doors in Strubbe's dorm room.
by John Mangels
https://www.kentstateshootingsexpert.com/blog/category/john-mangels
The Kent State Massacre 45 Years Later: Where Is Justice?
This article is dedicated to those who were killed and injured at Kent State and Jackson State in May 1970.
The United States has dealt with dissent in different ways in different historical epochs over the last century. During World War I, speaking against war was punished with imprisonment or deportation. World War II witnessed the jailing of conscientious objectors and soon after, as the Cold War heated up, membership in communist organizations and/or knowing a communist was penalized by losing one's livelihood, and in the extreme case of the Rosenbergs, by execution. As the U.S. became more deeply involved in war in Vietnam, and later expanding that war into Laos and Cambodia, dissidents and objectors were once again imprisoned and their right of free expression and assembly were attacked at the highest levels of government as was witnessed in the FBI's Counter Intelligence Program (COINTELPRO) that also involved executions.
by Howard Lisnoff
http://www.intrepidreport.com/archives/15583
Kent State Truth Tribunal
May 4, 1970, A Day tThat Changed America
Still Seeking Truth In The Kent State Massacre
On May 4, 1970 a troop of Ohio National Guardsmen opened fire with live ammunition on unarmed Kent State students protesting America's invasion of Cambodia. Four students were shot dead and nine were wounded. Ten days later, also in a student protest against the Vietnam War, two Jackson State students were slaughtered and more than 11 were wounded by law enforcement.
Kent State Shots Fired By FBI Informant - Allison Krause
Sister Sends Open Letter To President Obama
My Open Letter On Kent State To President Obama
by Laurel Krause
http://mendocoastcurrent.wordpress.com/2011/05/06/my-open-letter-on-kent-state-to-president-obama
The Truth About Kent State
Those of us who were old enough to remember that day, those of us who were on a college campus that day, those of us who survived the actual shooting -- we have never forgotten. That moment, shortly after noon, when we learned that the Ohio National Guard had killed four students and wounded nine others during an antiwar protest changed our lives.
What we had feared -- but never believed could happen -- had come to pass. They were killing us for our beliefs.
https://www.dailykos.com/stories/2010/04/29/861071/-The-Truth-About-Kent-State
48 [Now 50] Years Ago, US Troops Massacred Students in Ohio, Covered It Up and Got Away With It
On May 4, 1970, members of the Ohio National Guard descended on the campus of Kent State University in Ohio to quash and antiwar protest. During the protest, soldiers opened fire on an unarmed group of students—firing 67 rounds in 13 seconds—killing four and injuring nine others. To this date, not a single person has been held accountable and the government still refuses to admit that it participated in the murder of its own citizens.
by Matt Agorist
https://freedomoutpost.com/48-years-ago-us-troops-massacred-students-in-ohio-covered-it-up-and-got-away-with-it
Obama Justice Department Refuses To Investigate Kent State (36:53)
Mike Alewitz, A Central Connecticut State University Professor And Eyewitness To The Kent State Massacre Of 1970 Talks About The Killings Shortly After The Justice Department Decided Not To Take A New Look At The Killings Of Students. After You Hear His Talk And Look At His Photos It's Pretty Obvious Someone Ordered The Guard To Open Fire On The Few People In A Near Empty Parking Lot.
https://www.youtube.com/watch?v=buylp63TLKk
Decades Later, No Justice For Kent State Killings
by Laurel Krause, Co-founder and Director of the Kent State Truth Tribunal
https://www.aclu.org/blog/national-security/decades-later-no-justice-kent-state-killings?redirect=blog/free-speech/decades-later-no-justice-kent-state-killings
The Killings At Kent State (Photographs)
https://www.cnn.com/2014/05/02/us/gallery/kent-state-shooting/index.html
May 4, 1970
The Kent State Story in Pictures
https://www.pediment.com/products/may-4-1970-kent-state-shootings-hardcover-book
EarthNewspaper.com
All The Honest News Fit To Publish
https://EarthNewspaper.com


EarthNewspaper All The Honest News Fit To Publish
BitChute.com Channel with over 550 videos uploaded.
And approximately eight new videos uploaded each day.
https://www.bitchute.com/earthnewspaper