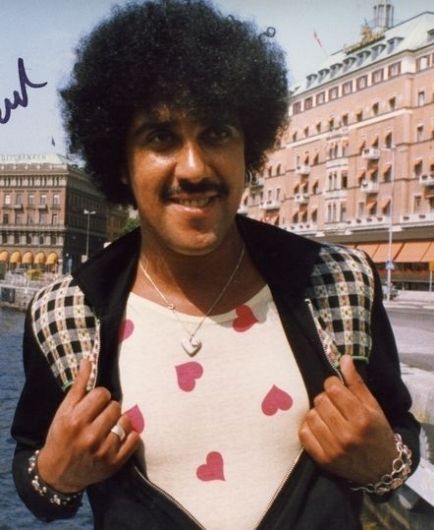 "There's nothing wrong with being a bit cocky
and all the time threatening the system."
Phil Lynott
August 20, 1949 – January 4, 1986

I was sitting in my Peugeot 504 taxi waiting for a fare outside of the renowned Mudd Club late one night during the magical summer of 1980 when a passenger got in and said he wanted to go to the Berkshire Hotel on 52nd Street and Madison Avenue. He spoke with an Irish brogue, so I asked him, what part of Ireland are you from? He said, from Dublin. I then told him both of my maternal grandparents were born in Ireland, and I'm an Irish poet here to save our species from extinction. Right away, he told me that he was also an Irish poet. I said, my name is Mark, it's good to meet you, he replied and told me his name was Philip, and it was good to meet me. He then mentioned that he found it serendipitous to get into a New York City taxi and find out the driver is an Irish poet.
I found his Dublin accent wasn't too thick, and I could understand nearly every word. At my local tavern in Elmhurst, the Gaslight Inn was owned and run by folks from Dublin with a thicker brogue that many times I couldn't understand half the words they were saying. I asked him what he did back in Dublin? He told me that he was in the band, Thin Lizzy. I then realized that it was Phil Lynott, the founder, principal songwriter, and lead singer of Thin Lizzy. I told him that I liked his music, and he was a talented bassist, singer, and songwriter. He was genuinely gracious and said thank you, Mark.
He asked if I had heard of his first solo album, Solo in Soho? I told him yes, WNEW-FM 102.7 gave it quite a lot of air time. He was pleased to hear from me that his music was being played in New York City by the number one rock radio station in the United States.
Philip was happy and outgoing with me. He told me he was married with two beautiful baby girls. Then he asked me to recite a poem of mine, so I did. It was a poem I had written a few months earlier, called, You Create Your Own Reality. As soon as I was finished, he asked me, please recite it again, so I did. When I finished, he told me that it was a beautiful poem. That brought a big smile to my face and I told him, thank you, Philip. Soon we were at the Berkshire Hotel, and he gave me the fare along with a big tip, so I got out of my taxi and shook his hand and told him to keep on rockin.
I enjoyed meeting Philip, he was not only the leader of one of the biggest bands in the world, but with me, he was another Irish poet.
Well, about a year or so later, and once again, it is late at night, and I'm the first taxi in front of the Mudd Club, where I also hung out quite often on my nights off. I was writing some poetry when a fare opened the back door and got in. As soon as the door closed, I heard a man with an Irish brogue say, Mark, how are you? I looked back, and to my astonishment, it was Philip Lynott once again, sitting alone in the back seat of my taxi. We shook hands, and both smiled at our paths crossing yet again. To the Berkshire Hotel, I asked? He said yes, same as last time.
Philip asked if I was writing poetry just now when he got in. I said yes. He then asked me to recite a poem that I've recently written. I recited a poem called, Somehow Succeed. This is the same poem I recited to Michael Jackson a couple of months later, which inspired Michael to create the song and video, Beat It. Once again, like last year, he told me that it was a beautiful poem. I said thank you and asked him to recite one of his poems. He did, and I told him that I found it profound, which instantly brought a smile to his face.
There we were, two Irish poets, both taught by Christian Brothers, reciting poems to one another while driving along late one evening in the center of the universe, otherwise known as Manhattan.
All too soon, we were in front of the Berkshire Hotel. This time Philip was even more generous, for he handed me a fifty-dollar bill for a five-dollar fare. Once again, I got out of my taxi and shook his hand. But this time, two Irish poets also gave each other a big loving hug.
Philip Parris Lynott died on January 4, 1986, at 36 years of age.
Rest in peace, you wonderful Irish poet.
I think Thin Lizzy should be inducted into the Rock 'n' Roll Hall of Fame. If you agree, email and tell them: info@rockhall.org
"I still listen to his music every single day.
I go over and I pour water on to his gravestone.
Then when I leave I give him a kick, for breaking my heart."
Philomena Lynott, is an Irish author and entrepreneur.
She is also the mother of Thin Lizzy frontman Phil Lynott.

Thin Lizzy | Phil Lynott
http://www.thinlizzy.org/phil.html
Phil Lynott
https://en.wikipedia.org/wiki/Phil_Lynott
Phil Lynott and Thin Lizzy
Playlist by Mark R. Elsis
https://www.youtube.com/playlist?list=PL9SLRU38-i-Z2cF7F4P7zrmmnCYZvd0HG
The Boys Are Back In Town (4:23)
by Phil Lynott and Thin Lizzy
https://www.bitchute.com/video/e0Zw6X47K52z

On This Day: Phil Lynott, Founder Of Thin Lizzy, Died
We celebrate iconic rockstar and Thiny Lizzy frontman Phil Lynott's life with a look at his most popular songs. Phil Lynott, the frontman for the iconic Irish rock band Thin Lizzy, died on this day, January 4, 1986, at Salisbury Infirmary, in Wiltshire, England. Phil Lynott was born on August 20, 1949, in West Bromwich, England, to an Irish mother and British Guianese father, but returned to Dublin at the age of four where he was raised by his grandmother in Crumlin.
by IrishCentral Staff
https://www.irishcentral.com/culture/entertainment/phil-lynott-thin-lizzy-frontman
Phillo's Girls Phil Lynott's Daughters
'Proud' To Be Thin Lizzy Star's Children As They Open Up About Childhood For First Time
Phil Lynott's daughters have spoken for the first time about how "proud" they are to be the Thin Lizzy star's children. Sarah and Cathleen spent their early years in Howth, Co Dublin, but then moved to the UK when their mum Caroline Taraskevics – the daughter of late ITV quiz show host Leslie Crowther – remarried and set up in home in Bristol.
by Ken Sweeney
https://www.thesun.ie/tvandshowbiz/4834568/phil-lynott-thin-lizzy-pride"

A Historical Look At The Mudd Club
Revisiting the downtown antithesis of Studio 54 that had an "anything goes" atmosphere
In 1970s New York City, uptown had the glitz of Studio 54 and downtown had the Mudd Club: a legendary, punk rock venue known for pushing the boundaries of what nightlife could be. The space was home to the arts and creative expression—in other words, a natural collision of fashion, art, music, and literature. And the list of guests who walked through the front door reflected that scene: musicians like Grace Jones, Madonna, David Bowie, Mick Jagger, Debbie Harry, Fab Five Freddy, Marianne Faithfull, The Ramones, The Talking Heads, and Nico; fashion people such as Anna Sui, Betsey Johnson, and Gia Carangi; artists Jean-Michel Basquiat, Keith Haring, and Andy Warhol; and literary stars like Allen Ginsberg and William S. Burroughs.
by Sabrina Cooper
https://www.crfashionbook.com/culture/a24889980/a-historical-look-at-the-mudd-club
Mudd Club
The Mudd Club was a nightclub located at 77 White Street in the TriBeCa neighborhood of Lower Manhattan in New York City. It operated from 1978 to 1983 as a venue for underground music and counterculture events.
https://en.wikipedia.org/wiki/Mudd_Club

The Mudd Club
NYC's notorious Mudd Club where art and music intersect with sex, drugs and the slumming glittering elite.
by Richard Boch (Doorman)
https://www.goodreads.com/book/show/34145267-the-mudd-club
If you enjoyed this article, I am writing a book, Meetings and Stories, about my scores of meetings with prominent people, mostly artists, and my lifetime of fascinating and wondrous stories.
A few of my Meetings and Stories are online, they include, Michael Jackson, The Genesis Of Beat It; John Denver, Love Is Why I Came Here In The First Place; and Robin Williams, My Two Meetings With Robin.
Meetings and Stories
by Mark R. Elsis
https://MeetingsAndStories.com

The Genesis Of Beat It
by Mark R. Elsis
https://MichaelJackson.net

Poetry Books by Phil Lynott
Lynott's first book of poetry, "Songs for While I'm Away", was published in 1974. It contained 21 poems which were all lyrics from Thin Lizzy songs, except one titled "A Holy Encounter". Only 1,000 copies of the book were printed. In 1977, a second volume was released, titled "Philip". In 1997, both books were brought together in a single volume, again titled "Songs for While I'm Away". This compendium edition featured illustrations by Tim Booth and Jim Fitzpatrick, and the original introductions by Peter Fallon and John Peel.[58] A documentary of the same name, featuring interviews with people who knew Lynott and worked with him, and some of his admirers such U2's Adam Clayton, was released in 2020.
https://en.wikipedia.org/wiki/Phil_Lynott#Poetry_books

Resonate Love
144 Poems
by Mark R. Elsis
https://ResonateLove.net