John Denver
Love Is Why I Came Here In The First Place
by Mark R. Elsis
October 12, 2017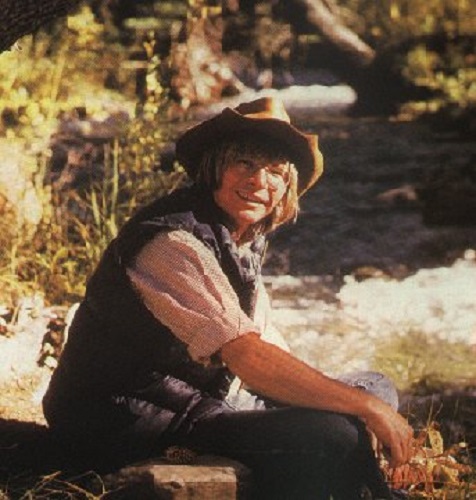 "There has never been a time on Earth like we see today. What we need are more ways to experience our interconnectedness, it is a precursor to deep love. So in this quickening light, with the dawn of each new day, let us look for love. Let us no longer struggle. Let us ever become who we most want to be. As we begin to be who we truly are, the world will be a better place."
John Denver
Today marks twenty years since you passed, and I still miss the love you gave us all.
Back in 1975, I was more of a harder Rock n' Roll type, although I still liked many musicians and groups who played easier, softer types of music. I didn't fully appreciate the fantastic singer, great songwriter, and wonderful guitarist that John Denver was. It wasn't till the autumn of 1975 when I started going steady with the second love of my life, Kathy Shannon, who absolutely loved John Denver, that I got it. Ever since then, I have been a big fan of John Denver's music.
It wasn't till a couple of years later that I also realized he was a loving human who was not only an extremely talented singer-songwriter, film actor and the television host with his variety and music specials, but also an activist and humanitarian that cared a great deal about our sacred Mother Earth.
It all started for John Denver with his first big hit, Leaving on a Jet Plane, which was released by Peter, Paul, and Mary as a single in October 1969. It soon became a number one song in the United States. It took a couple of more years, but success for John Denver as a singer-songwriter truly began with his fifth album, Poems, Prayers, and Promises, released in 1971. It was a breakthrough for him thanks in part to the single, Take Me Home, Country Roads, which went to number two on the Billboard charts.
After this, John Denver became more and more popular throughout the 1970s. In 1973, he scored his first top ten album with Rocky Mountain High. Between 1974 and 1975, Denver had a string of four number one songs, Sunshine on My Shoulders, Annie's Song, Thank God I'm a Country Boy, and I'm Sorry. He also had three number one albums, John Denver's Greatest Hits, Back Home Again, and Windsong.
His seasonal special, Rocky Mountain Christmas, was watched by more than 60 million people and was the highest rated show for the ABC network at that time. His live concert special, An Evening with John Denver, won the 1974-1975 Emmy for Outstanding Special, Comedy-Variety or Music.
John Denver was also a guest star on The Muppet Show, the beginning of the lifelong friendship between him and Jim Henson that spawned two television specials with The Muppets. He also tried acting, appearing in The Colorado Cattle Caper episode of the McCloud television movie on February 24, 1974, and starring in the 1977 film Oh, God! opposite George Burns. John Denver hosted the Grammy Awards five times in the 1970s and 1980s and guest-hosted The Tonight Show on multiple occasions.
John Denver recorded and released approximately 300 songs, about 200 of which he composed, with total sales of over 33 million records worldwide. His soft and gentle, country-folk music, along with his environmentally conscious humanitarianism, established him as one of the most beloved entertainers of his era.
Awards and recognition that John Denver received:
Academy of Country Music
1974 Album of the Year for Back Home Again
American Music Awards
1975 Favorite Pop/Rock Male Artist
1976 Favorite Country Album for Back Home Again
1976 Favorite Country Male Artist
Country Music Association
1975 Entertainer of the Year
1975 Song of the Year for "Back Home Again"
Emmy Awards
1975 Emmy for Outstanding Variety, Music or Comedy Special for An Evening With John Denver
Grammy Awards
1997 Best Musical Album For Children for All Aboard!
1998 Grammy Hall of Fame Award for "Take Me Home, Country Roads"
Songwriters Hall of Fame
Inducted in 1996
Other recognition:
Poet Laureate of Colorado, 1977
People's Choice Awards, 1977
Ten Outstanding Young Men of America, 1979
Carl Sandburg's People's Poet Award, 1982
NASA Public Service Medal, 1985
Albert Schweitzer Music Award, 1993
Freedoms Foundation Award, Valley Forge, Pennsylvania, 1980
When John Denver ended his business relationship with his manager, Jerry Weintraub because of his focus on other projects, Weintraub threw him out of his office and accused him of Nazism. I would say, that is an exceedingly strong accusation coming from a Jewish man, who you simply had a difference of opinion with about the future direction of your career.
Denver would later tell Arthur Tobier when the latter transcribed his autobiography, "I'd bend my principles to support something he wanted of me. And of course, every time you bend your principles. whether because you don't want to worry about it, or because you're afraid to stand up for fear of what you might lose, you sell your soul to the devil."
Take Me Home: An Autobiography
by John Denver and Arthur Tobier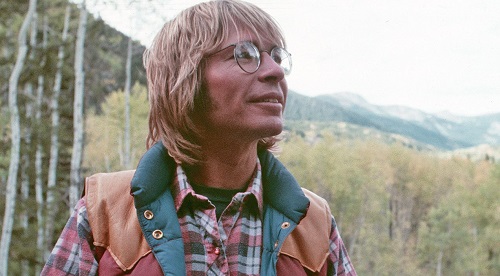 "The future of life on Earth depends on our ability to see the sacred where others see only the common."
John Denver
John Denver learned from this episode with his former manager and became much more of a principled man. He had his faults and frailties and was by no means anywhere near a perfect human being, but for the remainder of his life, he acted with integrity and honesty and had a strong sense of fairness, justice, and respect for the dignity of his fellow man and all of nature.
John Denver became outspoken in politics in the mid-1970s. He began to focus more on humanitarian and conservation projects. He expressed his ecologic interests in the epic 1975 song, Calypso, which is an ode to the exploration ship and team of environmental activist Jacques Cousteau.
In 1976, John Denver founded the charitable Windstar Foundation. In 1977, Denver co-founded The Hunger Project with Werner Erhard and Robert W. Fuller. He served for many years and supported the organization until his death. Denver was also appointed by President Jimmy Carter to serve on the President's Commission on World Hunger, writing the song, I Want to Live, as its theme song.
In 1985, John Denver toured the Soviet Union, giving 11 concerts. They marked a very important cultural exchange that culminated in an agreement to allow other western artists to perform there. He returned two years later to perform at a benefit concert for the victims of the Chernobyl disaster. In October 1992, Denver undertook a multiple-city tour of the People's Republic of China. In 1992, he also released a greatest-hits CD, Homegrown, to raise money for homeless charities.
"Music does bring people together. It allows us to experience the same emotions. People everywhere are the same in heart and spirit. No matter what language we speak, what color we are, the form of our politics or the expression of our love and our faith, music proves we are the same."
John Denver
I met John Denver while I drove a taxi in New York City. It was not too long after John Lennon was assassinated. I was parked, waiting outside of Studio 54 at about 4:30 am. I was the third taxi in line when John walked out, with an arm full of albums.
I recognized him right away and instantly asked the universe to please let him pick my taxi. He looked at the first taxi in line, and then the second taxi in line, and then got in mine. For the decade I drove a taxi this never happened to me before, that a passenger skipped the first two taxis, and picked the third taxi in line.
I told him right away that he just blew his Rocky Mountain High image, by coming out of Studio 54 at 4:30 am. He broke out in laughter, and then told me he was going to The Carlyle Hotel. I asked him if he knew that President John F. Kennedy once owned an apartment on the 34th floor at The Carlyle, which became known as the New York White House during his administration. He told me that yes, he did know.
He then looked at my Hack License, with my name and photograph, and asked me, who are you? I said, an Irish poet here to save our species from extinction. He was a little stunned, then said that he had just returned from Japan, where he learned that scientists there fed all the most relevant information on the science of carrying capacity into their fastest supercomputer, and it computed that we, Homo sapiens, would reach our Omega point by 2036. As I drove him to The Carlyle Hotel we continued our conversation about Mother Earth.
When we got to The Carlyle, we talked for over an hour about politics and the environmentally declining state of our planet. He was deeply concerned about all life, and the fate of our species. I told him now that John Lennon had been assassinated, he was one of the top people on Earth. He thanked me for such high praise, and told me that this was a responsibility he already understood, but never heard anyone tell him, such as I just had.
I then said that he should go over to the Union of Soviet Socialist Republics (USSR) and be the first musician to play music there. To help and show the people of the USSR, that the people from the United States are not their enemies. To show we are all citizens of Earth, regardless of all the government and media rhetoric to the contrary.
Well, as I mentioned earlier, in 1985, John Denver traveled to the USSR and did just that. His 11 concerts in the Soviet Union were the first performances by an American artist since the Cold War began; it marked a very important cultural exchange that culminated in an agreement to allow other western artists to perform there. He returned two years later to perform at a benefit concert for the victims of the Chernobyl disaster. In October 1992, Denver undertook a multiple-city tour of the People's Republic of China. John Denver - Live in the USSR
In addition to his writing and recording career, John Denver was a political activist, and in 1985 when he toured the Soviet Union he was moved greatly by a visit to the Piskaryovka Memorial Cemetery where hundreds of thousands of victims from the Siege of Leningrad are buried. He also met Alexander Gradsky, the leading singer-songwriter in Russia, and the following year at the Melodiya Studios in Moscow they recorded this anti-war number, from both US and Soviet perspectives.
Let Us Begin (What Are We Making Weapons For?) (5:58)
by John Denver
John Denver commissioned a short film for the song, which was put together from archive footage by his friend Obie Benz. This is believed to have been the first time an American and Soviet artist had performed together in a music video. As well as sharing the vocals with Gradsky, the recording included the Red Army Chorus "to go behind the spirit and the meaning" of the song.
John Denver said this was simply the best piece of work that he had ever produced in his career.
This song, however, precipitated a split between Denver and his record company RCA, which had recently been acquired by General Electric, who had military contracts and really couldn't have an artist singing about the issues in that song, peace.
Another beautiful poem and song, spoken and sang live by John Denver:
Peace (4:53)
Peace Poem and the song, Last Night I Had The Strangest Dream
Live at the Apollo Victoria Theater in London, October 26, 1982
I still cherish that over an hour talk that John Denver and I had together in my taxi, in the dead of night. I hold this encounter as one of the most important in my life.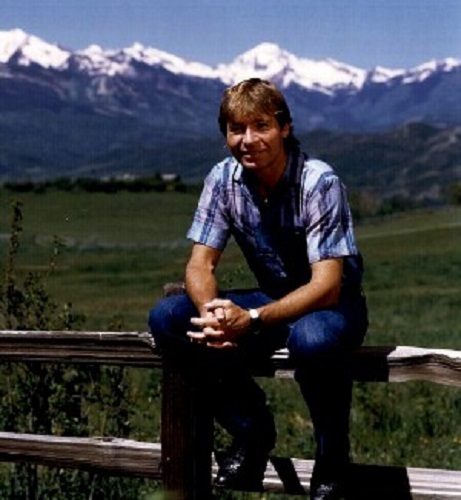 "I thought that I might be able to do something to further the cause of East / West understanding… The Russians say that the first swallow of spring won't make the weather for the whole season, but it can mark the turn toward a warmer climate.
I tried to be that swallow."
John Denver
It was late in the evening on Sunday, October 12, 1997, and I was in a large circular candlelit vigil directly in front of the White House, when a friend came up to me and said John Denver died. My heart instantly sank, and I started to cry. I (Lovearth.org) had organized this rally and candlelit vigil in front of the White House against the unmanned Cassini mission with its potentially deadly 72.3 pounds of Plutonium on board, when it could have used solar panels, and therefore promote the use of clean renewable energy.
The rally held was in Lafayette Square (People's Park) a National Historic Landmark, just North (across the street) from the White House. Many notable people gave speeches from Daniel Ellsberg to Dr. Ernest Sternglass. I asked John Denver to speak at this rally. He declined, saying he could not speak at a rally against the National Aeronautics and Space Administration's (NASA) unmanned Cassini mission. I knew that asking John was a real long shot because of his prior relationship with NASA and that he wanted to be one of the first civilians in space. Perhaps he thought that one day maybe he still could be.
Due to his love of flying, John was attracted to NASA and became dedicated to America's work in outer space. He conscientiously worked to help bring into being the Citizens in the Space program. John Denver received the NASA Public Service Medal, in 1985 for helping to increase awareness of space exploration by the peoples of the world, an award usually restricted to space flight engineers and designers. Also, in 1985, John passed NASA's rigorous physical examination and was in line for a space flight, a finalist for the first citizen's trip on the Space Shuttle in 1986, but he was not chosen. After the Space Shuttle Challenger disaster with the first civilian, and teacher, Christa McAuliffe aboard, John dedicated his song, Flying for Me, to all astronauts.
Later, when I found out what happened to John Denver, and especially where it occurred, I was devastated and dumbfounded. John died when his experimental Adrian Davis Long-EZ plane crashed just off the coast of Lovers Point Park, in Pacific Grove, California. The National Transportation Safety Board said the leading cause of the accident was John's inability to switch fuel tanks during flight.
I have looked quite thoroughly into the circumstances surrounding the untimely death of John Denver and found them to be decidedly suspect and problematic, to say the least. Perhaps someday I will write an in-depth piece fully explaining this statement, however that is not the scope of this article.
But what has left me completely bewildered is that Lovers Point Park, in Pacific Grove, California, is perhaps the highest place on this planet for me. I have been there many times and have always felt exceptionally special energy on every visit. So, for me to ask John to speak at a rally at the White House on Sunday, October 12, 1997; and for him to politely say no; and then for him to crash into the Pacific Ocean, a couple of hundred feet off of Lovers Point Park, on Sunday, October 12, 1997, and die. All I can say is that this eerily strange coincidence has distressed me for the last twenty years.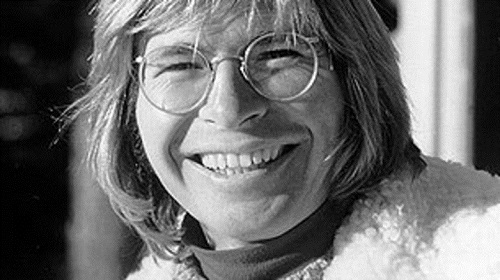 "I believe that we are here for each other, not against each other. Everything comes from an understanding that you are a gift in my life, whoever you are, whatever our differences."
John Denver
Annie's Song is my favorite John Denver song, and one of my favorite all-time songs. It was the song I chose to have my first dance with my second wife at our wedding reception. Listening to the beauty of this song can sometimes still bring tears to my eyes.
Annie's Song was written as an ode to Denver's wife at the time, Annie Martell Denver. John wrote this song in about ten minutes, while on a ski lift to the top of Ajax Mountain in Aspen, Colorado.
As the physical exhilaration of having just skied down a very difficult run and the feeling of total immersion in the beauty of the colors and sounds that filled all senses inspired him to think about his wife.
Annie Denver recalls the beginnings: "It was written after John and I had gone through a pretty intense time together and things were pretty good for us. He left to go skiing and he got on the Ajax chair on Aspen mountain and the song just came to him. He skied down and came home and wrote it down. Initially, it was a love song and it was given to me through him, and yet for him, it became a bit like a prayer."
Annie's Song was a single from the album Back Home Again. It was recorded in early 1974 at RCA's Music Center of the World, in Los Angeles. It was released as a single on June 15, 1974, and was John Denver's second number one song in the United States, occupying that spot for two weeks in July 1974.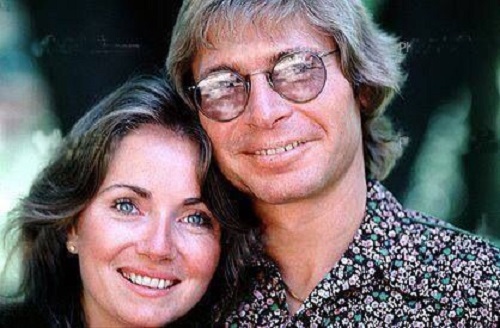 Annie's Song
You fill up my senses
Like a night in a forest
Like the mountains in springtime
Like a walk in the rain
Like a storm in the desert
Like a sleepy blue ocean
You fill up my senses
Come fill me again
Come let me love you
Let me give my life to you
Let me drown in your laughter
Let me die in your arms
Let me lay down beside you
Let me always be with you
Come let me love you
Come love me again
You fill up my senses
Like a night in a forest
Like the mountains in springtime
Like a walk in the rain
Like a storm in the desert
Like a sleepy blue ocean
You fill up my senses
Come fill me again
Words and music by John Denver
Annie's Song by John Denver, the studio version and sang live through the years.
Annie's Song (Studio 1974 3:08)
https://www.youtube.com/watch?v=RNOTF-znQyw&list=PL9SLRU38-i-a9vPLOgEqwtaM7PpSrrkG4
Annie's Song (Live October 26, 1982 3:11)
https://www.youtube.com/watch?v=rp2Jn5ttlac
Annie's Song (Live December 10, 1987 3:32)
https://www.youtube.com/watch?v=eJ2jeNlNd-0
Annie's Song (Live June 15, 1995 4:59)
https://www.youtube.com/watch?v=fhAcPYSsz-8
Thank you, John Denver for all the wondrous and beautiful music you gave the world. Thank you, John Denver for all the peaceful and environmental awareness you gave us. I will always be grateful for the talk outside The Carlyle we had together about the future of humanity.
I deeply thank you for going over to USSR as I asked you to do during our conversation, to play your music there, to tell them we are all the same, that we wanted to live on our Earth together with them in peace and with love for one another, and for being the first major musician to do all of this. You were a magnificent and inspirational soul, who is still with us through the loving music you gave to us.
Today marks twenty years since you passed, and I still miss the love you gave us all.
John Denver (55 Songs / Videos)
Playlist by Mark R. Elsis
https://www.youtube.com/playlist?list=PL9SLRU38-i-a9vPLOgEqwtaM7PpSrrkG4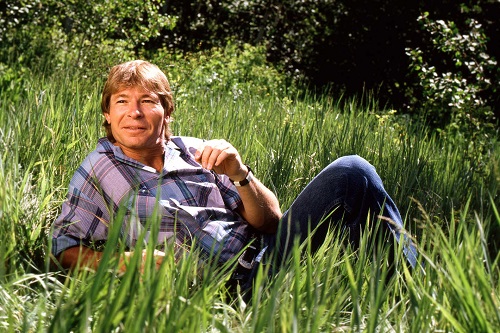 "Love is why I came here in the first place."
John Denver
If you enjoyed this article, I am writing a book, Meetings and Stories, about my scores of meetings with prominent people, mostly artists, and my lifetime of fascinating and wondrous stories.
A few of my Meetings and Stories are online, they include, Michael Jackson, The Genesis Of Beat It; Harry Chapin, One Of The Greatest Men On Earth; and Robin Williams, My Two Meetings With Robin.
Meetings and Stories
by Mark R. Elsis
https://MeetingsAndStories.com