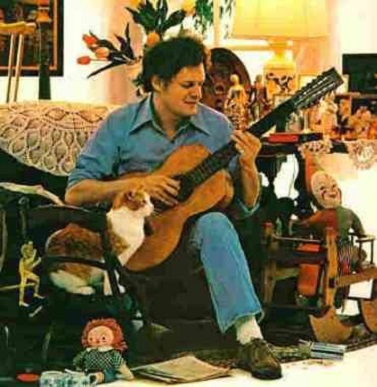 One Of The Greatest Men On Earth

December 7, 1942 - July 16, 1981
by Mark R. Elsis
"Oh if a man tried to take his time on earth,
and prove before he died what one man's life could be worth,
I wonder what would happen to this world."
Harry Chapin
While waiting outside of Colden Auditorium at Queens College, after a canceled concert, I met and had a few words with the man who was to have given the concert. In my eyes, one of the greatest men on Earth.
He was a dedicated humanitarian who fought to end world hunger. He was the co-founder of World Hunger Year or WHY, now known as WhyHunger, a wonderful and efficient non-profit that is still helping feed hungry people today. He was instrumental in the creation of the Presidential Commission on World Hunger in 1977.
He was a man that was posthumously awarded the highest civilian award in the United States, the Congressional Gold Medal. He was a man who performed benefit concerts for hundreds of worthy organizations during his career. He was a man who raised more than 3,000,000 USD for those in need in the last six years of his life. He was a man that donated to charitable causes an estimated 33% of the revenues from his indefatigable schedule of 200 plus concerts performed each year.

Besides his tireless humanitarian work, he was an accomplished and creative renaissance man that during his life was nominated for the following illustrious awards: Oscar, Grammy, Peabody, Emmy, and Tony.
He was a man that I was lucky enough to have seen in concert a handful of times between 1975 and 1980. He is a man that I still miss today.
His name was Harry Chapin.
In 1991 I was training to run my second New York City Marathon, which I did while sick, yet still did a time of 3:24:12, and if you take off the 8 minutes I lost at the start of the race, it was more like a 3:16:12, which is 7 minutes 29 seconds per mile for 26.22 miles, good enough to be in the top 10% of finishers.
To get in top shape for the upcoming marathon, one of my goals was to run a 10 Kilometer (10K) race in under 40 minutes. This is 6 minutes and 26 seconds per mile for 6.21 miles. In my last two 10K races, I had run around 41 minutes, and I didn't know if I could do it.
Then a friend since childhood and an excellent runner, Jerry Simpson, who I had been training a lot with, said he could get me under 40 minutes at the upcoming Harry Chapin Run Against Hunger 10K at Croton-On-The-Hudson on Sunday, October 20, 1991. I took him up on his offer to pace me.
Jerry was also a New York City Firefighter that ten years later, went through the tragedy of 911 when 343 of the Bravest lost their lives.
I had run the Harry Chapin 10K race once before and found it to be a tough, hilly course. Both Jerry and I entered because of our admiration for Harry, our love of running, and it is a beautifully scenic course where the trees are in their magnificent fall colors. The race went over the New Croton Dam, part of the New York City water supply system from the New Croton Reservoir.
Race day was cool in the low 50s, which is ideal for racing. Jerry told me we were going to run negative splits, which means we run the last 5K faster than the first 5K, to be quiet, and run behind him. I did and ran a 39 minute and 29 second 10K. This is 6 minutes and 21 seconds a mile for 6.21 miles. Breaking 40 minutes was an accomplishment that I will never forget. I thank you, my old friend, Jerry.
The kindhearted people, the autumnal colors, the beautiful yet difficult course, the wonderful cause of helping the hungry, and keeping the memory of Harry Chapin alive, make this road race a special event. It was also great to meet Harry's two brothers, Tom and Steve.
The Harry Chapin Run and Walk Against Hunger is still going strong. The 39th annual race took place on Sunday, October 20, 2019. This October will mark the 40th year this great run and now walk too, will take place honoring Harry.
Thank you, Harry, for the exemplary example you set by giving back so much to others who were hungry and less fortunate, and for all of the beautiful music, you created.
I still miss you and love you today, Harry Chapin, one of the greatest men on Earth.
"Our lives are to be used and thus to be lived as fully as possible,
and truly it seems that we are never so alive
as when we concern ourselves with other people."
Harry Chapin
Harry Chapin One Of The Greatest Men On Earth (6:03)
https://www.bitchute.com/video/ZlU9gJKT7POL
Harry Chapin Music
This site has been re-created by Harry Chapin's family to celebrate his 30 year legacy, what he wrote, what he sang, and what he accomplished.
We are sharing Harry's "Story of a Life" through photos, music, stories, poems, and his commitment to "A Better Place to Be."
Harry's stories are resonating now through the generations. His music continues to touch people and make a difference in their lives.
We honor Harry's "do something" spirit by featuring many of the non-profit organizations that he started like The Harry Chapin Foundation, Why Hunger, Long Island Cares, among others, and the important work they are doing.
We will continue to bring new stories, music, and products to the site.
Sandy Chapin
https://www.harrychapinmusic.com
Harry's Story
https://harrychapinmusic.com/pages/harrys-story
More On Harry
Harry Chapin was born in 1942 into a family of artists in Greenwich Village of New York City. His paternal grandfather, James Chapin, was an important portrait and muralist painter in the mid-20th Century. His maternal grandfather, Kenneth Burke, was a renowned philosopher and literary critic.
His father, Jim Chapin, was a well-known jazz drummer who played with Tommy Dorsey and Woody Herman. His uncle, Richard Leacock, was the famed cinema verite filmmaker, for whom Harry worked before making his 1968 Oscar nominated film Legendary Champions.
Harry Chapin was an American Troubadour.
All of these influences can be found in his urban folk, miniature movie story songs of blue collar Americans. And the influences can be felt in the diversity of his interests:
A series of documentary films:
12 albums over 10 years
Three Broadway shows
An Emmy Award winning children's TV series, Make A Wish
Film score for Mother and Daughter, the Loving War, a TV movie
And Oscar, Grammy, Peabody, Emmy and Tony nominations and awards.
http://harrychapinfoundation.org/more-on-harry
The Harry Chapin Foundation
The mission of the Harry Chapin Foundation is to support organizations that have demonstrated their ability to dramatically improve the lives and livelihood of people by helping them to become self-sufficient.
Harry Chapin, John Denver, Gordon Lightfoot and James Taylor formed a not for profit called The Food Policy Center which was a lobbying group that monitored the President's Commission on World Hunger of which Harry was a member. The Harry Chapin Memorial Fund was created in 1981 with help from Harry's former manager Ken Kragen and Kenny Rogers who donated $150,000 from a benefit concert. Harry's widow Sandy Chapin has led the organization from the beginning. While the name was changed to the Harry Chapin Foundation, its mission has stayed the same - to help make a positive difference in communities around the country.
http://www.harrychapinfoundation.org
WhyHunger (formerly World Hunger Year)
WhyHunger was founded in 1975 by the late musician Harry Chapin and Radio DJ Bill Ayres on the fundamental belief that access to nutritious food is a human right and hunger is a solvable problem in a world of abundance. What began as a simple commitment between two friends to make a difference has grown into a global non-profit, celebrating 40 years of steadfast support in building a broad-base social movement led by the grassroots to change the systems, policies and institutions that perpetuate hunger and poverty in our world.
WhyHunger has proven that change is possible and that justice can prevail. We continue to forge ahead with a clear vision and strategy to transform our collective food system into one that is socially and economically just, nourishes whole communities, cools the planet and ensures the rights of all people to food, land, water and sustainable livelihoods. Join us!
Long Island Cares
Founded by the late Harry Chapin, Long Island Cares brings together all available resources for the benefit of the hungry and food insecure on Long Island and, to the best of our ability, provides for the humanitarian needs of our community. Our goals are to improve food security for families, sponsor programs that help families achieve self-sufficiency, and educate the general public about the causes and consequences of hunger on Long Island. Our vision is "A Hunger Free Long Island".
Harry Chapin Food Bank
The Harry Chapin Food Bank of Southwest Florida was opened in 1983. Formerly known as the Lee County Food Cooperative, the Harry Chapin Food Bank has served as the only Feeding America food bank in Southwest Florida. We've partnered with more than 150 agencies that provide direct services to those in need, including church food pantries, soup kitchens, emergency shelters, disaster relief agencies and more. Today, the food bank provides food for more than 30,000 individuals each month. In fiscal year 2014-2015, the Harry Chapin Food Bank distributed 18.74 million pounds of food, provided 15.3 million meals, and turned every $1 into $6 worth of food for those in need.
https://www.HarryChapinFoodbank.org
Harry Chapin Memorial Run and Walk Against Hunger
https://www.runagainsthunger.com
Harry Chapin (45 Videos)
Playlist by Mark R. Elsis
https://www.youtube.com/playlist?list=PL9SLRU38-i-avMkwUcIeTFlNPCvHJQQVf
A Better Place To Be
by Harry Chapin
https://www.youtube.com/watch?v=MNz9MhrzDfo
Tangled Up Puppet
by Harry Chapin
https://www.youtube.com/watch?v=c9xx7MFvPck

All My Life's A Circle
by Harry Chapin
http://harrychapin.com/articles/bio.shtml
How Harry Died
http://harrychapin.com/misc/howdied.shtml
"We all have the potential to move the world,
and the world is ready to be moved."
Harry Chapin
If you enjoyed this article, I am writing a book, Meetings and Stories, about my scores of meetings with prominent people, mostly artists, and my lifetime of fascinating and wondrous stories.
A few of my Meetings and Stories are online, they include, Michael Jackson, The Genesis Of Beat It; John Denver, Love Is Why I Came Here In The First Place; and Robin Williams, My Two Meetings With Robin.
Meetings and Stories
by Mark R. Elsis