David Ferrer

Should be inducted into the International Tennis Hall of Fame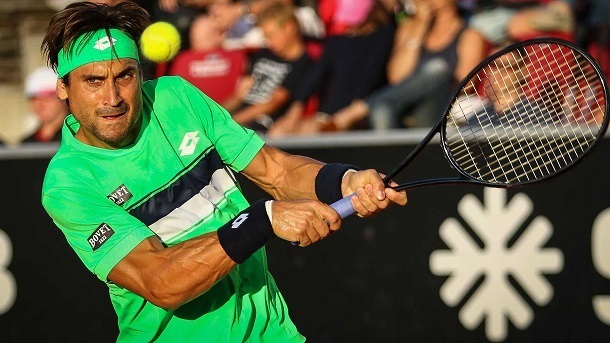 by Mark R. Elsis
"He is one of my closest friends on tour. We've shared amazing moments together,
a Grand Slam final, three Davis Cup wins. He's one of the greatest players our
country has ever had. David never won a Grand Slam, maybe because of bad luck
and because he had to play in the same era as three players who won all the titles.
There are players who won a Major despite being a worse player than him."
This is the eligibility criteria to be inducted into the International Tennis Hall of Fame: A distinguished record of competitive achievement at the highest international level, with consideration given to integrity, sportsmanship, and character.
Why should David Ferrer be inducted into the International Tennis Hall of Fame? Because humble, relentless, David Ferrer and his 727 wins, and counting, is 12th all-time for a male tennis player. Since David Ferrer turned pro in 2000, he won these 727 grinding matches while competing against the highest quality of opponents; Nadal, Djokovic, Federer, Murray, Roddick, del Potro, Hewitt, Cilic, Wawrinka and Berdych.
There are many male tennis players with fewer victories, some with hundreds of fewer wins, already in the Tennis Hall of Fame. Why is this? Because supposedly, if you have a great career, you still need to win at least one of the four Grand Slam tournaments, also called Majors, to be inducted. I'm not trying to take anything away from these great players that are already in the International Tennis Hall of Fame; I'm simply bringing forth this factual evidence to make an undeniably strong and compelling case for the incredible mental fortitude, work ethic and fitness level, which therefore allowed the consistently exceptional tennis and longevity of David, who played in 63 out of his last 64 Grand Slam tournaments, and amassed 727 wins on the ATP Tour.
The Glam Slam tournaments: Australian Open, French Open, Wimbledon, and US Open
This unwritten rule of winning at least one Grand Slam to get into the Tennis Hall of Fame is especially unfair for David, who played alongside three of the greatest tennis players in history. Nadal, Djokovic, and Federer, who between them have won 52 Grand Slams; and if you add in the three Grand Slams from both Murray and Warwinki, you have 58 Grand Slams in the hands of five players.
If David Ferrer played in any other era, he would have won multiple Grand Slams.
It is time to cast aside this archaic, unjust and unwritten rule, so one of the greatest tennis players ever receives what he fully deserves, to be inducted into the International Tennis Hall of Fame.
David Ferrer reached a career high of world number three on July 8, 2013. He won 27 tournaments at every level; 250, 500, 1000; all except at a Grand Slam. He played in one Grand Slam final, the 2013 French Open. He reach the final without dropping a set, but lost in straight sets to compatriot Rafael Nadal.
David has won the most matches on the ATP Tour without having won a Grand Slam.
Besides making the 2013 French Open final, David was also a semifinalist once, and a quarterfinalist four times at Roland-Garros. At the Australian Open, he was a semifinalist twice, and a quarterfinalist four times. At the US Open, he was a semifinalist twice and a quarterfinalist once. At Wimbledon, he was a quarterfinalist twice. David was a quarterfinalist at 10 straight Grand Slams from the 2012 Australian Open through the 2014 French Open. David also qualified for the year ending ATP World Tour Finals seven times and was a finalist once, and a semifinalist once.
David Ferrer was a three-time Davis Cup Champion with Spain in 2008, 2009, and 2011.
At 5' 9", David Ferrer was a smart and tenacious gentleman competitive on every point. He was the epitome of a tennis player who always gave everything. And all this was done against physically larger opponents. Talk about getting the most out of yourself, and for being a positive role model for children to look up to and try to emulate.
Of the top 26 male tennis players in wins (see below), the 15 in green are already in the hall, and the 8 in blue will be in, within 10 years. So, only 3 players of the 26, all without a grand slam win, David Ferrer (727 wins and counting), Brian Gottfried (683 wins) and Tomas Berdych (634 wins and counting) somehow don't make the hall cut.
As a decent recreational tennis player and an avid tennis fan for five decades, I say that David Ferrer and his 727 hard fought grinding match wins, which is 12th all-time, is a complete no-brainer to be inducted into the International Tennis Hall of Fame.
I thank you, David, for your illustrious career; your integrity and sportsmanship; your distinguished record of competitive achievement was of the highest international level.
We have five years from David's retirement at the Madrid Open to state our case before he will be eligible for voting. So, if you also know in your heart that David Ferrer should be inducted into the International Tennis Hall of Fame, let your voice be heard, and contact them by email, snail mail or phone to politely tell them so (see below).
This year for the first time ever, the International Tennis Hall of Fame has let fans vote on who they think should be inducted. The problem is, it was set-up giving the fan vote such a minuscule percentage. This ensures the fan vote will have little influence on the actual voting outcome. It's essentially window dressing to make the fans think their votes count when in reality they are almost insignificant. Todd and Stan, please fix this to make the fans vote count. Perhaps with an equal 50% / 50% weight between the fans vote, and the journalists, historians, and Hall of Famers vote would be the right way.
Contacts:
Todd Martin, CEO International Tennis Hall of Fame
Stan Smith, President International Tennis Hall of Fame
email:
Address:
International Tennis Hall of Fame
194 Bellevue Avenue
Newport, RI 02840
Phone:
401.849.3990
Website:
Through January 27, 2019, for latest wins see Source below:
Rank Country Player Career Years Wins
1 United States Jimmy Connors 1970–1996 1256
2 Switzerland Roger Federer 1998– 1183
3 Czech Republic Ivan Lendl 1978–1994 1068
4 Argentina Guillermo Vilas 1968–1992 949
5 Spain Rafael Nadal 2001– 924
6 United States John McEnroe 1976–1992 881
7 United States Andre Agassi 1986–2006 870
8 Serbia Novak Djokovic 2003– 846
9 Romania Ilie Nastase 1968–1985 842
10 Sweden Stefan Edberg 1982–1996 801
11 United States Pete Sampras 1988–2002 762
12 Spain David Ferrer 2000– 727
13 Germany Boris Becker 1983–1999 713
14 United States Brian Gottfried 1970–1984 683
15 Spain Manuel Orantes 1968–1984 676
16 United States Arthur Ashe 1968–1979 667
17 United Kingdom Andy Murray 2002– 663
18 United States Stan Smith 1968–1985 662
18 United States Michael Chang 1987–2003 662
20 Sweden Björn Borg 1971–1983 639
21 Czech Republic Tomáš Berdych 2001– 634
22 Austria Thomas Muster 1984–1999 625
23 Australia Lleyton Hewitt 1997–2016 616
24 United States Andy Roddick 1999–2012 612
25 Russia Yevgeny Kafelnikov 1992–2003 609
26 Croatia Goran Ivaniševic 1988–2004 599
Source: List of top 50 Open Era men's singles tennis players by career match wins
If you enjoyed this article, I am writing a book, Meetings and Stories, about my scores of meetings with prominent people, mostly artists, and my lifetime of fascinating and wondrous stories.
A few of my Meetings and Stories are online, they include, Michael Jackson, The Genesis Of Beat It; John Denver, Love Is Why I Came Here In The First Place; and Robin Williams, My Two Meetings With Robin.
Meetings and Stories
by Mark R. Elsis